Reach us 24/7/365 at 07009110911
About Us Plans Value-Added Clients Contact Us Portals: Log In
---
We are a National Health Insurance Agency (NHIA)-accredited Health Maintenance Organization (HMO) that has been providing 24/7/365 quality affordable healthcare service to the public and private sector nationally since 2007.
Our Offer:
-Quality health care plans
-Innovative ICT solutions
-Dedicated, responsive and attentive staff
-Suite of value-added services
-A robust hospital and provider network
Tips of the Week
Sleeping for up to 8 hours per night helps to effectively recharge the body for the next day.
Starting the day with a balanced breakfast can set a positive tone for your day.
Laughter can be a good medicine to help you better deal with the many challenges of life.
Updates of the Week
- Our staff is a phone call away to provide guidance and assistance whener you need it.
- Did you know that we can bring excitement and cheer to you through our Happy Hour Programme? Give us a call for a booking.
Basic - Everything you need to get started
Classic - Taking the Basic plan a notch higher
Bronze - Stepping things up a bit
Silver - An added touch of Silver
Gold - Entails the exclusivity that Gold offers
Platinum - Raising the Gold bar
Platinum Extra - The Ultimate Plan
Contact us at 07009110911 or info@sterlinghealthmcs.com for a full plan listing.
Some of our Value Added Services
Prescription Refill Delivery
Health Fitness Programme
Onsite Health Checks
One On One Physician Consultation
Appointment Booking
Enrollee Promotions
and many more!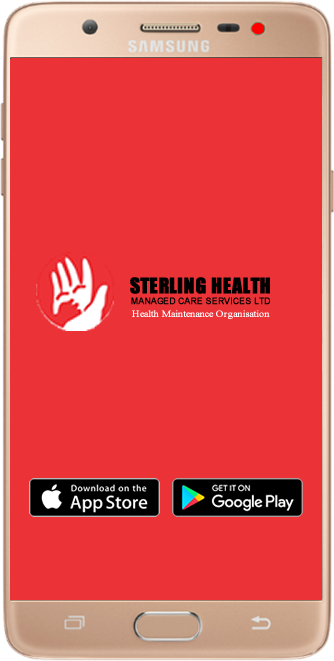 © 2023 Sterling Health Managed Care Services Limited